About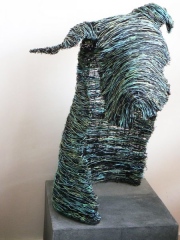 Annie Glass Melbourne based wire sculptor
Annie Glass was born in Melbourne Australia and lives in the bayside suburb of Hampton East with her family.
Annie studied painting, printmaking, drawing, photography, graphic design and sculpture in a two year art and design course at Box Hill and Moorabbin tafe. She then studied photography at the Brighton Bay School of Photography. Then Annie completed a three year degree at Monash University majoring in sculpture and received a high destinction for sculpture. After completing her degree Annie focused on bronze sculpture. When she had her first child annie wanted to move to a quieter medium that she could practice from home and thats how she moved on to wire. Annie likes to portray movement in her work and also a lack of balance so the work can sometimes appear to defy gravity. The wire actually worked better than the bronze to enhance the feeling of movement. Annie paints her galvanised wire pieces with metal paint and verdigris patina which is traditionally used on bronze and copper and what annie loved to colour her bronze works with. She then paints the works with other acrylic and enamel colours which adds to the depth and movement to. Annies recurring themes that she sculpts are the female form, children, dogs, water and beach scenes and hills hoists.Some of her influences are Picasso, dogs, the beach, the female form and movement. Annie is a member of the sculpture association of victoria and shows in several different exhibitions annually including the Melbourne flower & garden show, Annual exhibition, The Toorak Village sculpture show and Art at Burnley harbour. She has work in several private collections in Australia and New York.
Artist statement.
I like to have humour in my work as I find that people can identify with a humerous piece. I like to give the works and Australian flavour and I find the beach,dogs and the Hills hoist work towards that. I want to remind people of their childhoods and just generally use human themes so people can identify with the work. It is figurative because I want it to be accessible to the average person and to tell a story about life. Sculpture is my passion and I am so lucky to be doing something that I love and it makes other people happy to..
CV
STUDIES
1995-1998 Monash University Bachelor of Arts (Fine Art Sculpture)
1994-1995 Brighton Bay- Photography
1992-1993 Moorabbin TAFE Certificate of Art & Design (Photography)
1990-1991 Box Hill TAFE: Certificate of Art & Design (Graphic Design)
1989-1990 VCE Mount Scopus College
AWARDS
2008 Peoples Choice award Association of Sculptors annual show,Montsalvat
2008 First prize The Andor Meszaros Award association of Sculptors annual show.
2008 Highly commended(Dalchem) Melbourne Flower and Garden show
2007 Winner of "She who dreams" competition, Walker Street Gallery
2006 Highly commended: Association of Sculptors of Victoria Annual
exhibition and awards- The barn gallery Montsalvat.
2006 Winner of "She who belongs" competition, Walker Street Gallery
2002 Winner of "With One Brush" competition, Concert in the Park
1992 Most potential in photography, Moorabbin TAFE
1990 Winner of VCE Art Award, Mount Scopus College
EXHIBITIONS- Group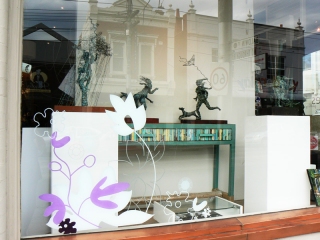 2009 Toorak sculpture festival,Toorak village
2009 Melbourne Flower &Garden show sculpture exhibition,Carlton
2009 Birds Gallery ,Kew
2008 Association of Sculptors Vic annual show,Montsalvat
2008 Toorak sculpture Festival
2008 Art at Burnley Harbour,Burnley
2008 Melbourne Flower and Garden Show
2008 Linden Postcards Show 2008
2008 Every Picture Tells A Story, Cube 37 Frankston Arts Centre
2007 Art Blitz exhibition, Kingston Council
2007 Art at Burnley Harbour 2007
2007 Trios Chicas, Fitzroy Gallery,Fitzroy
2007 Caulfield Grammer annual exhibition,Wheelers Hill campus
2007 She Who Dreams exhibition,Walker street Gallery,Dandenong
2006 Art at Burnley Harbour, Burnley
2006 Association of Sculptors annual exhibition, barn gallery,Montsalvat
2006 Toorak Sculpture Festival,Toorak Village
2006 The collectors exhibition, Steps Gallery , Carlton
2006 She Who Belongs exhibition , Walker Street Gallery ,Dandenong.
2006 Art Blitz exhibition , Kingston Council
2006 Linden Postcards exhibition , Linden Gallery,StKilda
2005 Art at Burnley Harbour , Burnley
2005 Art Blitz exhibition, Kingston Council
2005 Linden Postcards exhibition, Linden Gallery,StKilda
2002 With One Brush exhibition, Concert in the Park,Caulfield
EXHIBITIONS – SOLO
2006 "Life Like" ,MGA( Monash Gallery of Art),Wheelers Hill
2006 "Snapshots", Atrium Exhibition Space, Bayside council,Sandringham.
2000 "Suspended Animation", Helengory Gallerie,Prahran.
1999 "To Life" , Fitzroy Gallery,Fitzroy
PUBLICATIONS
"Glass's art in Steel" – Springvale-Dandenong Leader (Feb 2006)
"Top entry is a Steel"- Bayside Leader (March 2006)
"Artist wired into beach life" Bayside Leader (Sept 2006)
"With One Brush Winner" Jewish News (May 2002)
FORTHCOMING EX
2009 Manyung gallery ,Mt Eliza
2009 Frances Keevil Gallery ,Double Bay